March 17, 2012
Happy St. Patrick's Day! !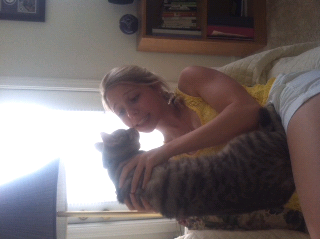 March 14, 2012
Happy Pi Day!!!
I have loved this day for as long as I can remember! In college, I made a big deal about it but I never really had enough time to make a pie for the occasion (sad I know). But in honor of
Pi-day
this year, I concocted a pie creation!!
A Pizza Pie!!
Another fun fact! Today is also
Registered Dietitian Day
!!! So make sure you put some
veggies
on that pizza!
In other news, the pizza (above) was a homemade creation and oh so delicious. With a nice whole wheat crust as the base, your choice of toppings are endless! The real secret of this pizza?
The Sauce! It was fresh tasting with a hint of spice. Marshall concocted this recipe on the fly, so I will share with you his magical creation.
It starts with a can of Italian Style WHOLE Peeled Plum Tomatoes. You really need whole tomatoes for this... do not skip this step!!
You will then
drain the juice
out of your canned tomatoes, and dump the remaining contents of the can into a food processor. Other ingredients that need to go into the processor include:
1.5 roasted red bell pepper
4 cloves of garlic
1.5 teaspoons dried oregano
1/2 teaspoon pepper
You then just lightly pulse until all ingredients are throughly combined and evenly chopped up. It should resemble this -->
*Important*
Do NOT pureed ingredients....it will lose the wonderful texture in the sauce that is necessary for the pizza!
Now all you have to do is top your whole wheat pizza crust with a light layer of this sauce, add some fresh buffalo mozzarella, and add whatever other toppings your little heart desires.
What did I top my pizza with?
Fresh mozzarella
Sliced Tomatoes
Roasted Red and Yellow Baby Bell Peppers
Caramelized Onions
Leftover Veggies (ex: grilled asparagus)

Soppressata

--> this is an Italian meat similar in flavor to pepperoni, but without all the grease! It looks like this:
Put your pizza in the oven (make sure its HOT, like 550 degrees F) for 10 - 12 minutes or until golden brown and delicious!
Enjoy your Pie!!
March 13, 2012
And on this year's spring break, I took a trip to North Carolina! And since my spring break is not a trip to the beach or some place super warm (I'm pretty sure Dallas is warmer than NC right now), Marshall and I took a little day trip to the next best thing! Some Mountains!
Views on the hike
On Sunday we took a little day trip up to Blowing Rock, NC, hopped on the Blue Ridge Parkway for a bit to get to our hiking trail entrance, and started the journey up Grandfather Mountain! We had some lovely views to look at on the way to the top!
Perfect Day for a Hike!
Over the course of the 8 mile hike, we climbed to an elevation of 5946 feet! And it was chilly close to the top. Let me show you Exhibit A:
Ice on the rock
We definitely needed some layers on our hike. But to get to the very, tip top of the mountain, we had to do some climbing. Enter Exhibit B:
Ladders to the top!
Marshall and the Ladder... please note the ice!
It was a wee bit scary... especially since I'm mildly afraid of heights! After the ladders, there were also some fun cables we had to use to climb up since the rocks we had to walk over were ice covered. Kind of scary. But, we finally made it to the top! And we had some lovely views!
Blue Ridge Parkway
Very Pretty
Such a clear day, you could see for miles!
But like anything that must go up, we had to come down....
Two large ladders... had to climb down both (obvi).... I took my time to say the least. But we were hungry, even though we brought snacks....it just wasn't the real food we were looking for... so we booked it down the mountain as fast as we could go without breaking our ankles.
Snapshot of the trail
5 hours and 8 miles later, we were back at the car searching to find some food (It was 3:30 and most of the places closed at 3 for lunch...NOT COOL). Eventually we found some:
Delicious
Inhaled the hot cheesy-ness and promptly fell asleep
Good day, good hike